CDs
Aenean lacinia bibendum nulla sed consectetur. Donec ullamcorper nulla non metus auctor fringilla. Duis mollis, est non commodo luctus, nisi erat porttitor ligula, eget lacinia odio sem nec elit. Donec id elit non mi porta gravida at eget metus. Cum sociis natoque penatibus et magnis dis parturient montes, nascetur ridiculus mus.
SKY (Physical CD)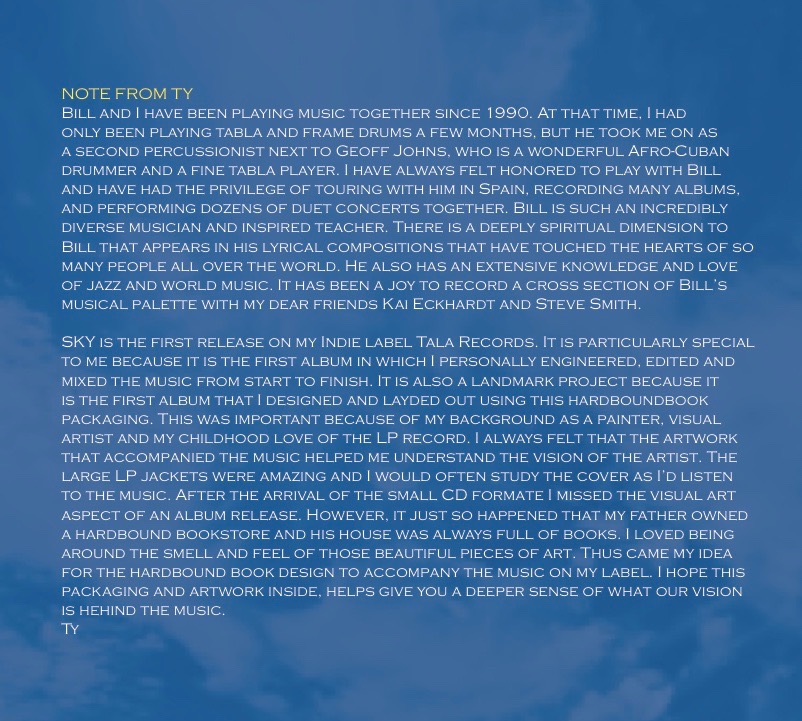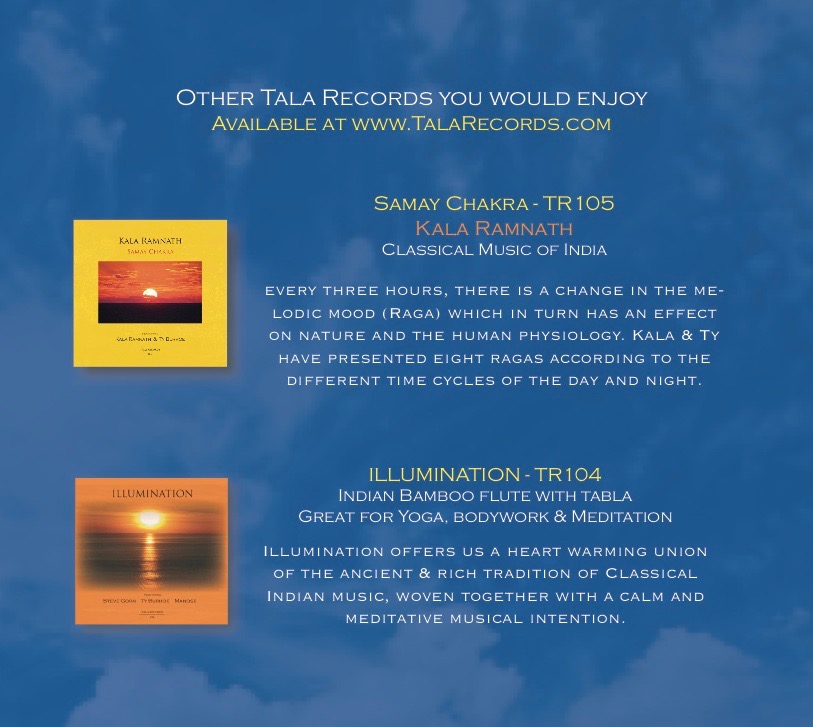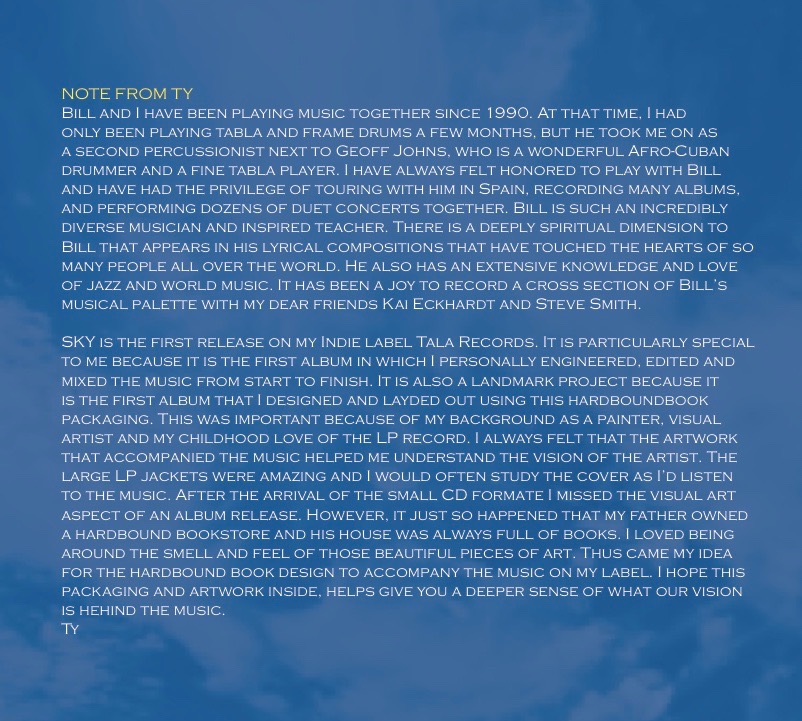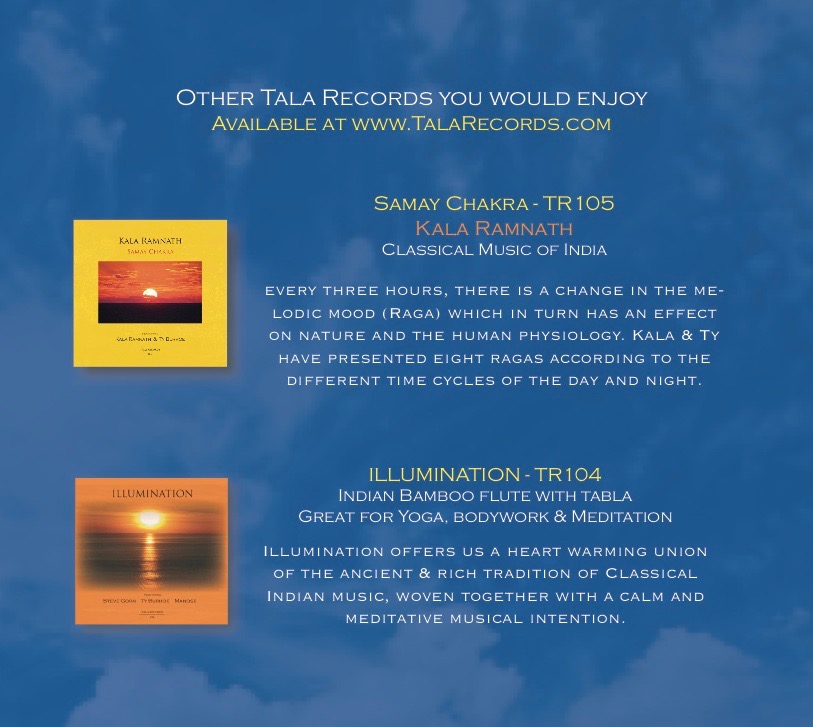 SKY (Physical CD)
SKY TR101 (listen to samples below)
Physical CD - In a beautiful hardbound book style!
Bill Douglas (piano)
Ty Burhoe (tabla & percussion)
Kai Eckhardt (bass)
Steve Smith (drums)
"Sky" is an inspired blend of world fusion with elements of classical, jazz and world. In this unique recording, the soulful sounds of Indian tabla blend seamlessly with the uplifting melodies of the piano. From lyrical ballads to world groove to J.S. Bach, this unique collaboration traverses a diverse soundscape, which touches the spirit of creativity. "Sky" features the beautiful music of composer/pianist Bill Douglas, and the heartfelt tabla playing of Ty Burhoe. Joining them for this unique musical project are two of the world's great virtuoso musicians, the brilliant fretless bass player Kai Eckhardt (John McLaughlin Trio) and drumming legend, Steve Smith (Journey & Vital Information).
Reviews
Feel free to send us your reviews through the contact page


Absolutely Beautiful!!!!
This is an absolutely beautiful collection of music. I particularly enjoy the first track and have played it over and over since receiving 2 weeks ago. The piano and Ty's tabla blend seamlessly! Extremely well crafted!
~ Don Witkowski


A New Masterpiece Unfolds
This music has many subleties that unfold the more you listen to the CD. The artists' techniques, skills and attention to detail blend to form widely varied moods and imagery on several levels of consciousness. The result: Great morning music; Great evening music; Even greater driving music!!!
~ Arnie


I´ll play this over and over again
Virtous players. This is a hard to categorize album, World music, Jazz and even classical arrangements. It´s amazing how this ensemble fits together. One of my personal top cd´s for the year 2005. Good music produces pictures in the head of the listener. This cd takes you on a journey to the land of milk and honey.
~ Joerg from Germany


…particularly inspired…
In the case of the groove-tinged SKY, the music presented is a unique fusion of world music and contemporary jazz. Bill Douglas' harmonic piano playing lies at the center of many of these tracks, joined by the funky bass of Kai Eckhardt, the tabla of Burhoe and the more traditional drumming of Steve Smith. The mix of tabla and jazz piano is particularly inspired – the music has a decidedly Western jazz sound, yet with an exotic, ethnic quality that is very appealing.
~ Music Design Team


Light and bright
Non-invasive, uplifting background for family Christmas celebrations.
~ Joan K.


Fantastic again!!!!
I think it is fa fantastic record. I love the these kind music.
Every yearI hope for a new record of Bill Douglas. But that is fantastic because that record has a new style like jazz. It is a new window, a new face of music, of Bill with others musicians I didn' t knew. FANTASTIC AGAIN !!!! Thanks for your music for ever!!
~ Eulalia Hosta Privat


Jazz - fusion - classical - funk
I've been listening to jazz fusion for years. But this album really is something extraordinary. I knew Kai Eckardt and Steve Smith are super muscicians, but Bill Douglas blew me away with his virtuoso technique and melodic compositions. Highlights for me are the funky-classicals Autumn and Courante. I will be listening to this cd many times.
Thank you,
~ Jesper from Denmark


Probably his best cd to date
Have just about worn it out already, currently sitting in my car stacker & great on a long trip,This is Bill @ his expressive best Like this format,trust there will be more to come.
regards.
~ Graham G.


One of a Kind
Sky has been my constant companion in my car's CD player since it was released. What a completely unique and wonderfully creative blend of genres, styles, and sounds.
~ Jonathan in New York


A true composer of the soul
A real treat from one of my favorite artists, Bill, thank you for yet another super CD. Bill Douglas has always been a true composer of the soul, melodies enchanting, touching your being with everlasting serenity... yet this album offers more rhythm than his latest ones while he combined celtic, harmonious tunes in his previous recordings along with heavenly "the ars nova singers" ,
this album has a more jazzy touch and a modern like beat
i personaly prefer his celtic albums all and all its a treat to hear bill douglas... a true music angel.
~ Avi from Israel


Fantastic!!!
The CD is fantastic,I loved it and keep playing it all the time,each time I hear it it gets better. I look forward to buying more from you and I must say that the delivery was just so quick.Thankyou once again for the quick response and the FABULOUS music.I just wish more people could become aware of such great music.
~ Judith Hartley