CDs
Aenean lacinia bibendum nulla sed consectetur. Donec ullamcorper nulla non metus auctor fringilla. Duis mollis, est non commodo luctus, nisi erat porttitor ligula, eget lacinia odio sem nec elit. Donec id elit non mi porta gravida at eget metus. Cum sociis natoque penatibus et magnis dis parturient montes, nascetur ridiculus mus.
SLEEPING SWAN (Physical CD)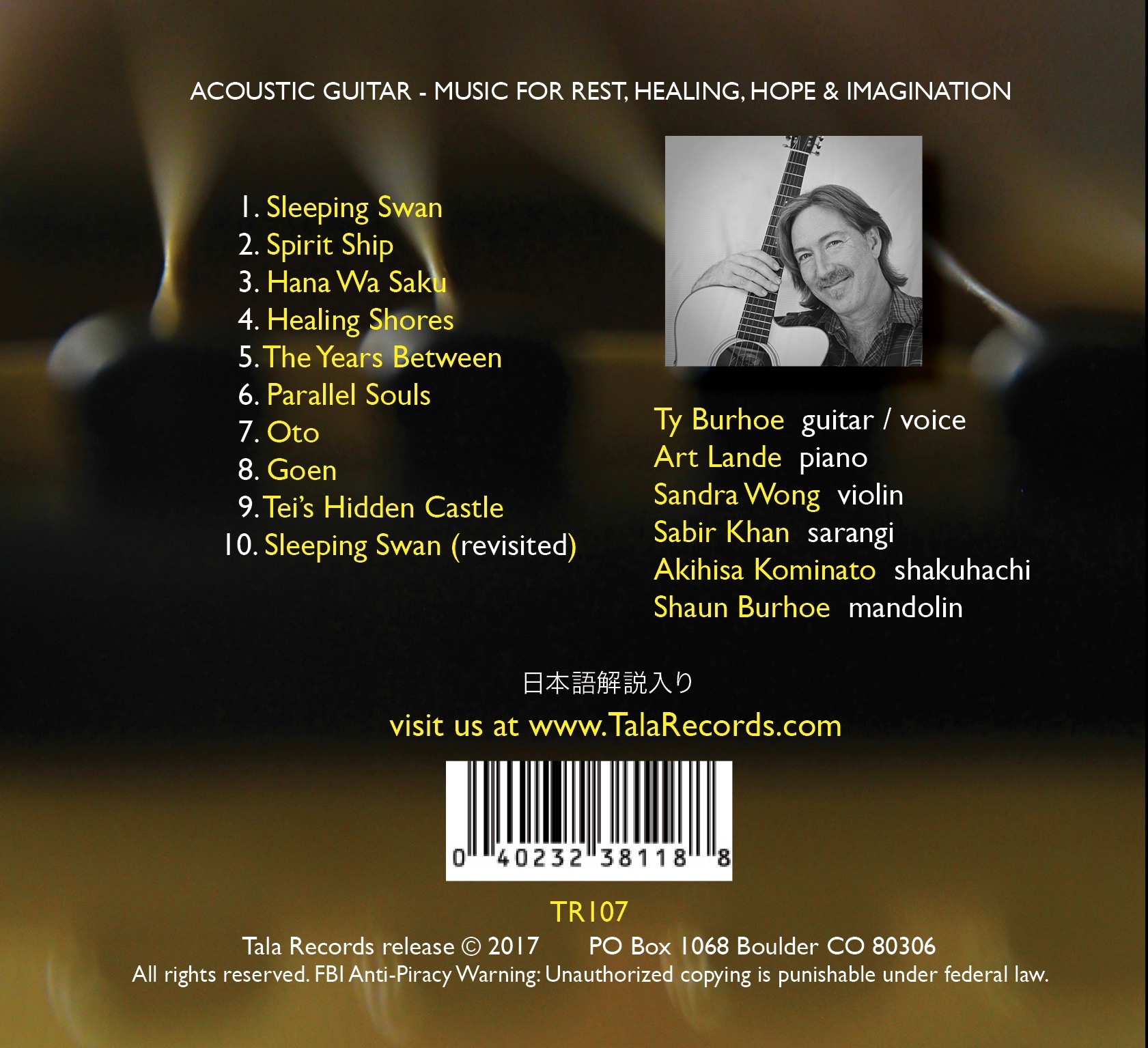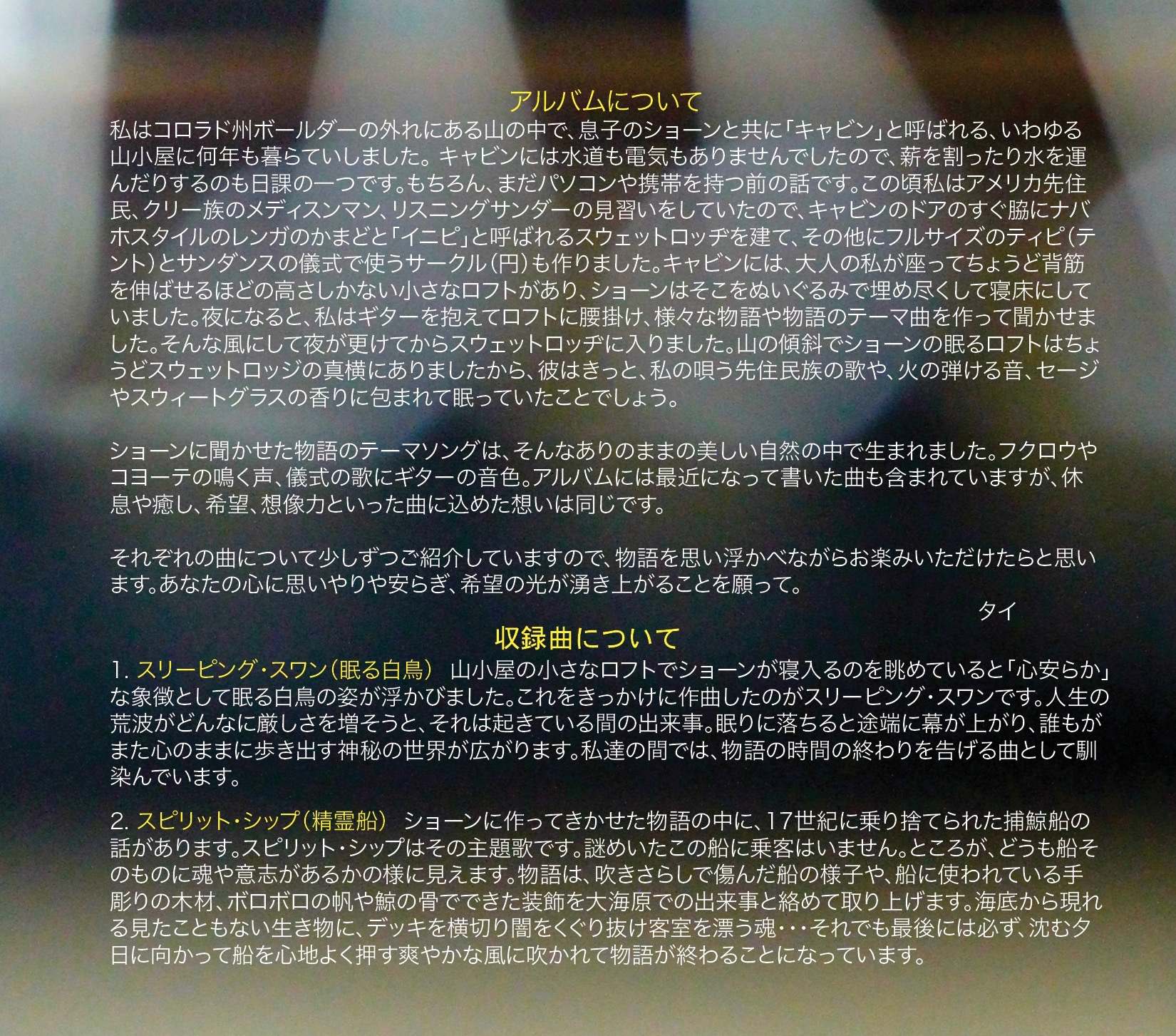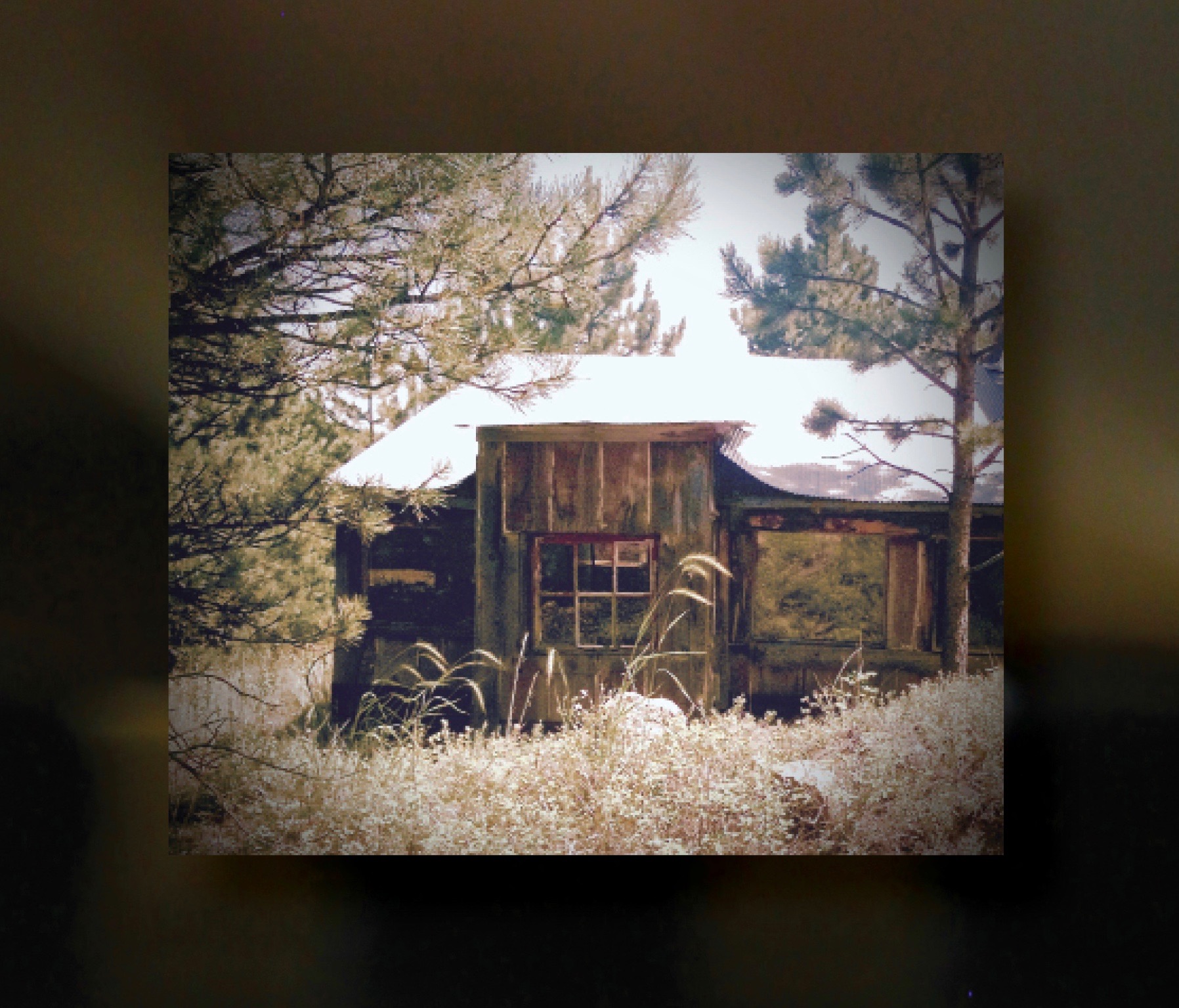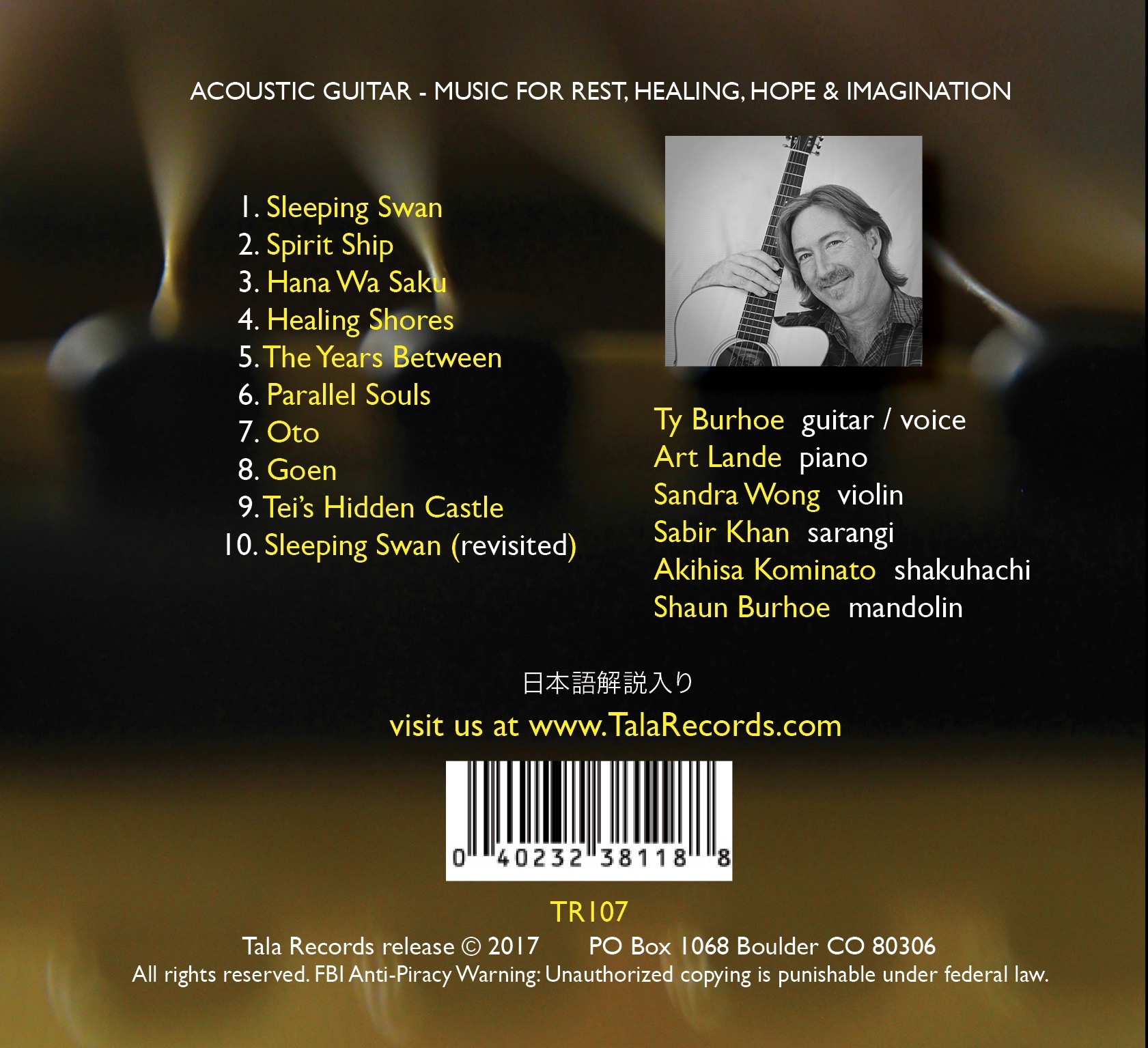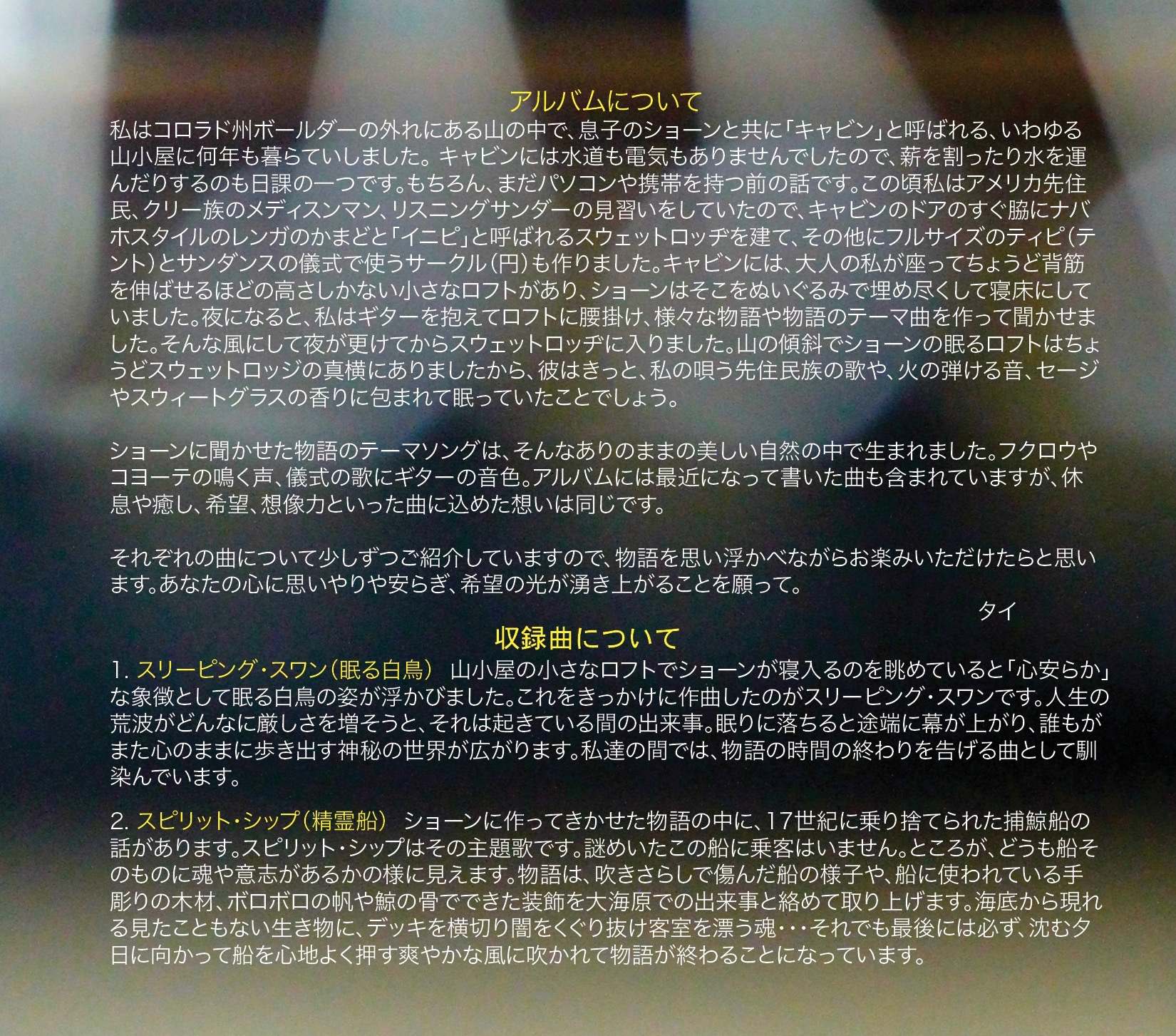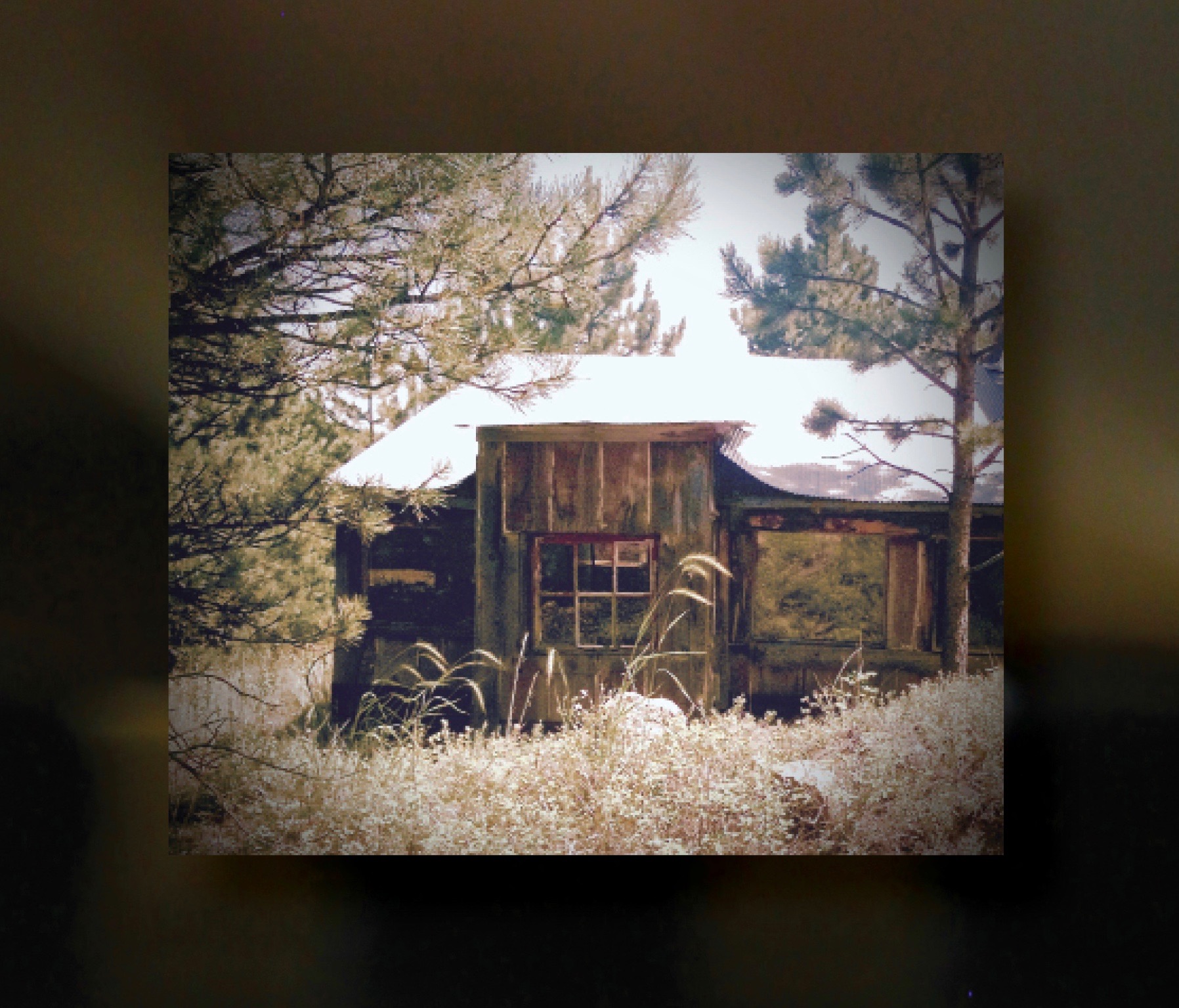 SLEEPING SWAN (Physical CD)
SLEEPING SWAN TR107 (listen to samples below)
Physical CD - In a beautiful hardbound book style!
For a Digital Download of the album, click here: DIGITAL
Ty Burhoe - Guitar / Art Lande - Piano / Sabir Khan - Sarangi
Sandra Wong - Violin / Akihisa Kominato - Shakuhachi
Shaun Burhoe - Mandolin
This album features Ty Burhoe's guitar lullabies written over the years for his family as well as for the heart of each one of us. Every song is a soundtrack to either a bedtime story told by Ty to his children or about the many worlds in which we exist. This is Ty's debut guitar album and he has chosen some of the finest musicians from very diverse genres to join him. From the world of Jazz, the rich music of Art Lande on the piano. From Classical Indian music, the brilliant sarangi playing of Sabir Khan. From Japan, the Soul stirring shakuhachi playing of Akihisa Kominato. From Western Classical music the lush and heart felt violin playing of Sandra Wong. And finally, Ty's son, Shaun Burhoe joining the album on the mandolin. A perfect blend - music for rest, healing, hope and imagination.
Click Here To Read Ty's Blog About This Album
Reviews
Feel free to send us your reviews through the contact page
Inspiring & Uplifting Music
Ty Burhoe's latest album --Sleeping Swan-- is without any doubt a work of love. This is really beautiful, introspective, inspiring, and uplifting music. Every track in the album has a very intimate feel that invites you to listen closer and enjoy the beautiful melodies and their poetic arrangements. The order of the tracks in the album works very well, ideal for keeping the album in repeat, which is what I have been doing to put me in a creative space of mind. The CD artwork is actually a beautiful booklet that tells the story behind each one of the tracks. This is the kind of music that is perfect as a gift to loved ones.
~ Camillo Scherer
I can always hear something new
I have enjoyed listening to all of Ty Burhoe's albums, and this one is an interesting addition to my collection. It is very gentle, soothing and restful. With Ty's albums it has been my experience that no matter how many times I listen I can always hear something new, previously unnoticed, which indicates to me a great level of creativity and depth in his music. "Sleeping Swan" is well worth a long listen.
~ Dayasagar Saraswati
Awesome CD!
Listen to it everyday on my way home from work. Helps me wind down.
~ Bob
I need the hear beautiful music that soothes my mind and heart these days
I feel compelled to tell you how much I love and continue to enjoy your new CD of lullabies. I felt enamored thinking of you playing the guitar in this musical genre and hearing your whistle and voice for the first time as well. I so enjoy the entire work and listen for myself, as I need the hear beautiful music that soothes my mind and heart these days. I can imagine your smile as you play. I particularly love the connection you share with your son within the composed pieces. The mixture of musicians are dynamic and full of expression. I can listen to the entire CD as though it has movements…yet have a common thread. Congratulations on your completion and I hope you continue in this genre.
~ Deb
Love it
Listening to Sleeping Swan right now - LOVE IT TY - it will be featured and savored frequently in the massage room over the coming months!
~ Rita
I had to stop what I was doing...
I'm emailing just to say that I am listening to a playlist on Spotify and I was taken aback by the beauty of a random song that came on. I had to stop what I was doing to look at what song it was. What a surprise when I saw that it was "Oto" by you!
~ Linda
Calming
Ty's "Sleeping Swan" album helps me to settle down before sleep and gives me a sense of calm - every night!
~ Anonymous
What a magical time
I love the stories about you and your son living in the cabin and playing for him when he was a child. What a magical time that must have been. I am instantly taking in by the music.
~ Chad
Wow!
This is perfect music for imagination and resting the Soul!
Love the new CD. Recommend it to everyone for any occasion.
~ Chris B.