CDs
Aenean lacinia bibendum nulla sed consectetur. Donec ullamcorper nulla non metus auctor fringilla. Duis mollis, est non commodo luctus, nisi erat porttitor ligula, eget lacinia odio sem nec elit. Donec id elit non mi porta gravida at eget metus. Cum sociis natoque penatibus et magnis dis parturient montes, nascetur ridiculus mus.
HORIZON (Physical CD)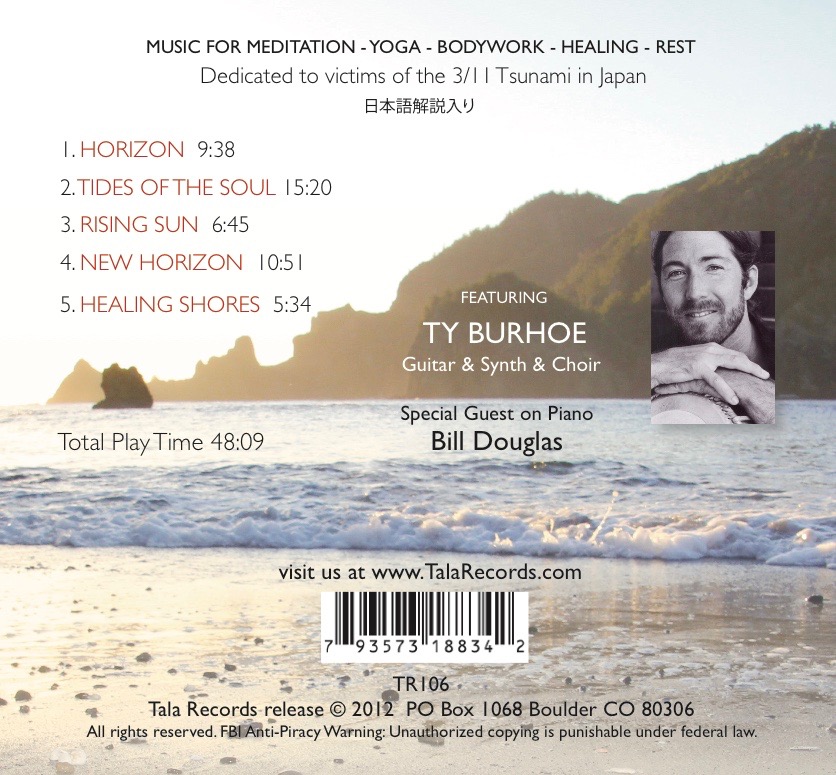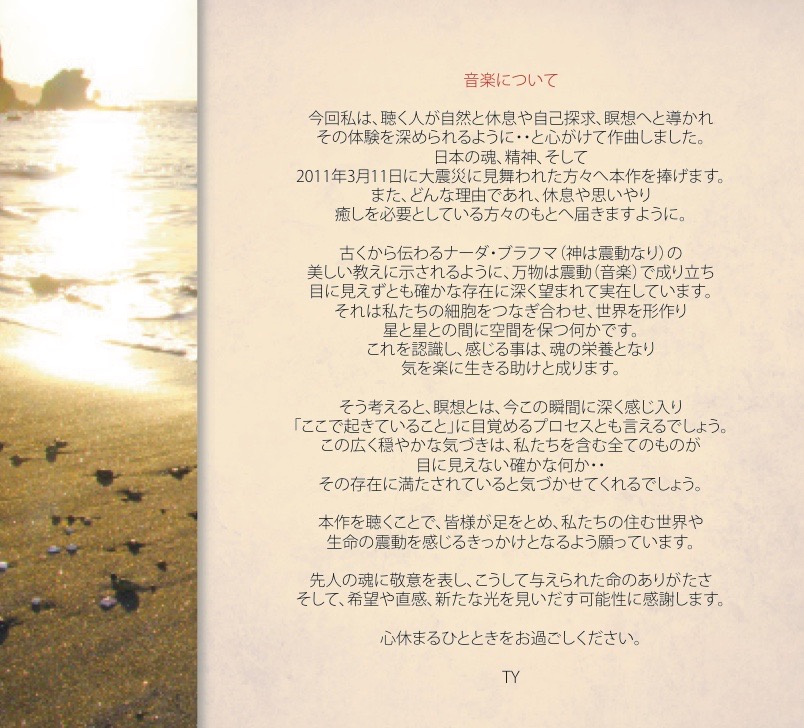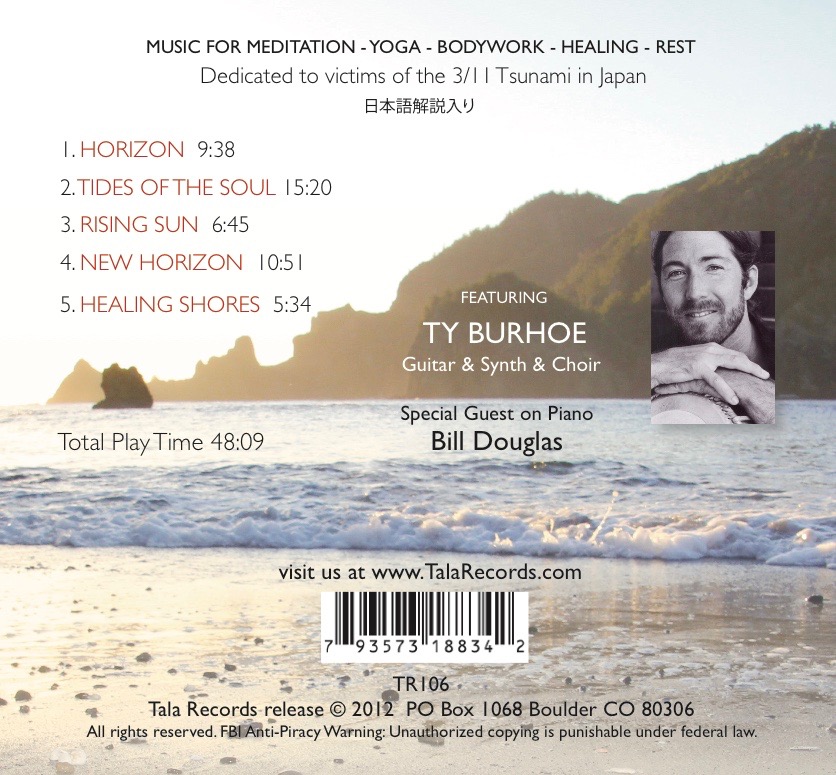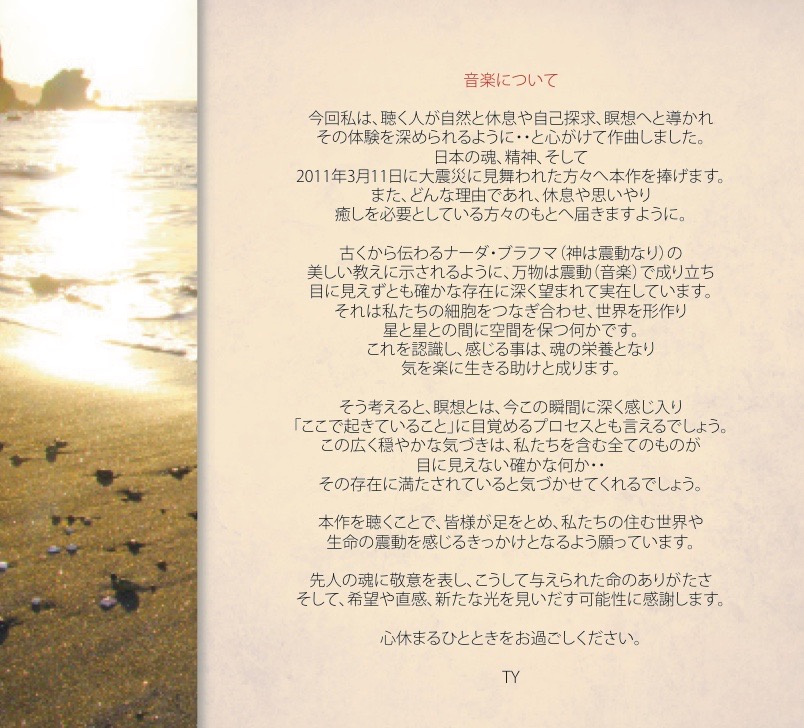 HORIZON (Physical CD)
HORIZON TR106 (listen to samples below)
Physical CD - In a beautiful hardbound book style!
Ty Burhoe (guitar / synth / voices)
Bill Douglas (piano)
about the music
I wrote this music specifically to inspire and support states of rest, reflection and meditation. I have dedicated this album to the spirit of Japan following the disaster of march 11th 2011 and to all those who may be in need of rest or healing for any reason what so ever.

As is suggested by the ancient tradition of Nada Yoga, all things are being craved into existence by an unseen yet undeniable presence. It is this presence that binds our cells together, gives our world form and maintains the space between the stars. To recognize and feel this presence gives nutrition to our Soul and allows us to live at ease of heart. Meditation is simply the process of arriving more fully into the present (to varying degrees), becoming aware of this presence, which is where so much power, beauty and living is really happening. I pray that this music reminds us to stop and feel the vibrations of our world and the gift of our lives.
Reviews
Feel free to send us your reviews through the contact page
...heavenly melodies rising and merging back into a shimmering spaciousness...
Ty's new CD dedicated to the spirit of Japan following the earthquake and tsunami on March 11th 2011, took us completely by surprise. He's not playing tabla, he's playing guitar and key boards along with Bill Douglas on piano. This is a lovely album of heavenly melodies rising and merging back into a shimmering spaciousness. Listening to this sublime music is like watching puffy white clouds floating overhead on a lazy summer day - there is no time, only timelessness. Highly recommended for quiet contemplation, bodywork and deep relaxation. A portion of CD sales goes toward recovery efforts in Japan.
~ Light of Consciousness Magazine - Summer 2013



Music Design Review ~
Serenity flows through the soft instrumental music of Ty Burhoe. This album, which is dedicated to the Japanese people whose lives were impacted by the catastrophic 2011 earthquake, features music designed to help you experience peace and inner harmony. Each of these songs plays like a sonic meditation – the melodies are spacious with an improvisational quality. It's the kind of album that is perfect for creating atmosphere, particularly when you need a place to practice mindfulness.
~ Music Design Team



Customer Review~
…bringing back the initial wonder and reverence…

"Horizon", the latest album from Ty Burhoe, comes as a utter and pleasant surprise. After his accustomed collaborations as a percussionist and tabla player accompanying musicians across a multitude of genres, from Indian classical music, to Japanese music, to contemporary western jazz, we are now introduced to another facet of this versatile musician, that of a composer and guitarist.

Inspired by his experiences in the aftermath of the March 11, 2011 tsunami, when his pre-scheduled concerts in Japan turned into emergency fund raising events, this is a very intimate album. Respectful, delicate, sensitive and soothing.

While each one of the five tracks can stand on its own, when listened in sequence we realize that they form one complete narrative in five movements.

In the first track, which aptly lends its name to the whole album, Bill Douglas on the piano captivates our attention and draws us inside, leading us into a place of wonder and reverence where there is no hurry. The piano takes its time, gently introducing the theme, almost like a prayer and guiding us to take time and contemplate.

"Tides of the Soul", the second track, evokes that feeling of being at home, sitting at the porch, next to your best friend, contemplating the ocean waves at dusk, pondering the inscrutable questions of life. It starts with the piano asking and appealing. Later, allowing time for contemplation, the guitar joins in answer.

Somewhat akin to a classical Indian music performance, where in the beginning percussion is not used, rhythm is introduced only later, usually with the help of the tabla, after the melody has been fully developed. In this album Ty does not play the tabla. Rhythm is introduced in the form of guitar strokes (sometimes with hints of the beautiful patterns of tabla) that arrive at the perfect moment creating the tempo that allows for a conversation with the piano.

"Rising Sun", features the guitar and evokes feelings of acceptance and empathy. The piano is not present, but will return in the next track, "New Horizon", bringing back the initial wonder and reverence, in a duet with the guitar.

"Healing Shores", the bonus piece, closes the narrative, featuring the guitar with its rich and soothing voice reassuring us that everything will be ok.

In the face of unbearable loss, when we are exiled to a place of hopelessness and sorrow, where the currency of words loose its value to reach us, this music seems to have a free pass to find us there, and with a gentle hand, respectfully attempts to bring us back home.
Camillo Scherer, December 23, 2012




Common Ground Magazine Music Review ~
…above all, this music speaks in the language of beauty, enveloping all we aspire to while freeing the Soul along the way…

The very idea of "healing music" raises eyebrows. Music has always been a healing force, as well as a disruptive, celebratory, and sometimes discordant avenue for communication and creative expression. These days, music for the healing arts means it works well for massage, meditation, dream work, or (slower) yoga. Some artists aim for this while others arrive without that intention, meaning that "I find this music healing" may just as well apply when listening to country, heavy metal, or hip hop.

For Ty Burhoe and Horizon, this renowned tabla player and percussionist (a disciple of Ustad Zakir Hussain since 1990, he's played with Krishna Das, Bela Fleck, Jon Anderson and others) left all the rhythm behind, focusing on his experiences in the aftermath of the March 2011 tsunami. His prescheduled concerts in Japan turned into emergency fundraising events, and he came away with a very intimate album, in all ways respectful, delicate, sensitive and soothing.

Ty was trained across many genres, from Indian Classical music to Japanese music to Western jazz, and we are now introduced to another facet of this versatile musician, that of a composer and guitarist. While each of the five tracks stands on its own, when listened to in sequence, they form one complete narrative in five movements. Throughout, Bill Douglas's prayer-like piano mastery captivates our attention and draws us inside. Above all, this music speaks in the language of beauty, enveloping all we aspire to while freeing the Soul along the way.

In the face of unbearable loss, when we are exiled to a place of hopelessness and sorrow, where the currency of words loses its value to reach us, this music seems to find us there, and with a gentle hand, respectfully attempts to bring us back home. Ty writes, "I wrote this music specifically to inspire and support states of rest, reflection, and meditation." In my repeated listening since its arrival, this marvelous CD succeeds by every possible measure.
~ Lloyd Barde (Lloyd@well.com)




Customer Review ~
"… it's simply peaceful and beautiful, and I am once again transformed and lifted!"
"Its 4 pm on Sunday of Memorial Day weekend and I am packing my bags for a week of meetings in Chicago. The weekend is coming to a close, and I can feel myself starting to sink into the sadness and reality that change is inevitable. I feel vulnerable, melancholy, and unsure. I know that it's time to transition from one phase of my day to the next. My heart calls out and asks me to reach deeper inside of myself, to connect back to my own inner world and bring peace and harmony within. It's time to accept the internal shift I am going through and re-focus my energies. In this moment, I know exactly where to turn ~ I reach for Ty Burhoe's new CD, "Horizon". The air, the light touch of hand on the piano keys, the space, it just does something for me. It is hard to put into words how deeply music affects our spirit, heart, and mind. I allow the music to flow through me and I enable myself to heal through the sound. What I encounter is a 'soul enriching' musical journey which speaks to the pain and struggles of life, and I know that I have found my way home, and back to myself. I have been playing "Horizon" constantly...It's simply peaceful and beautiful, and I am once again transformed and lifted!"
Jill Heller