CDs
Aenean lacinia bibendum nulla sed consectetur. Donec ullamcorper nulla non metus auctor fringilla. Duis mollis, est non commodo luctus, nisi erat porttitor ligula, eget lacinia odio sem nec elit. Donec id elit non mi porta gravida at eget metus. Cum sociis natoque penatibus et magnis dis parturient montes, nascetur ridiculus mus.
INVOCATION (Physical CD)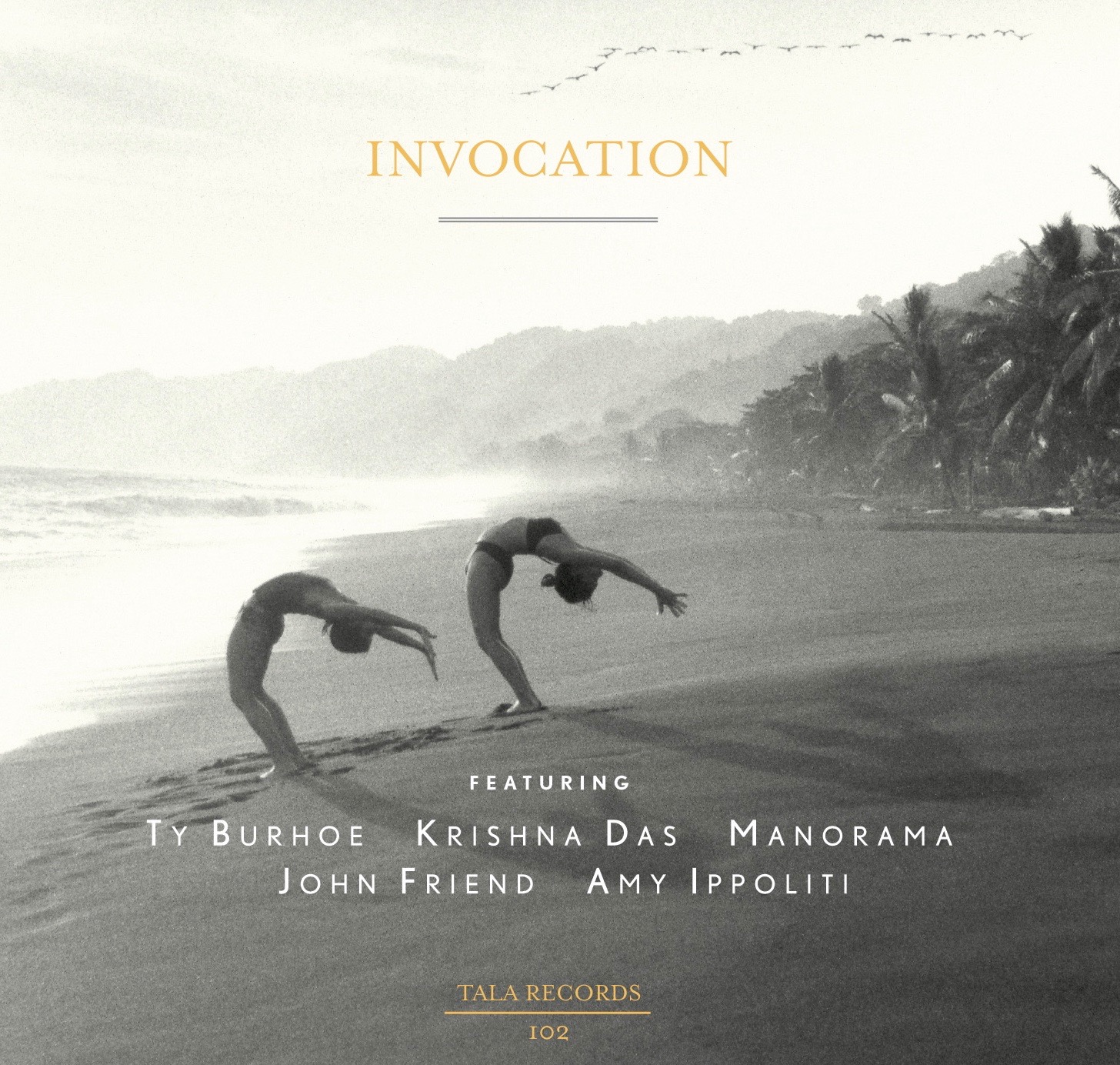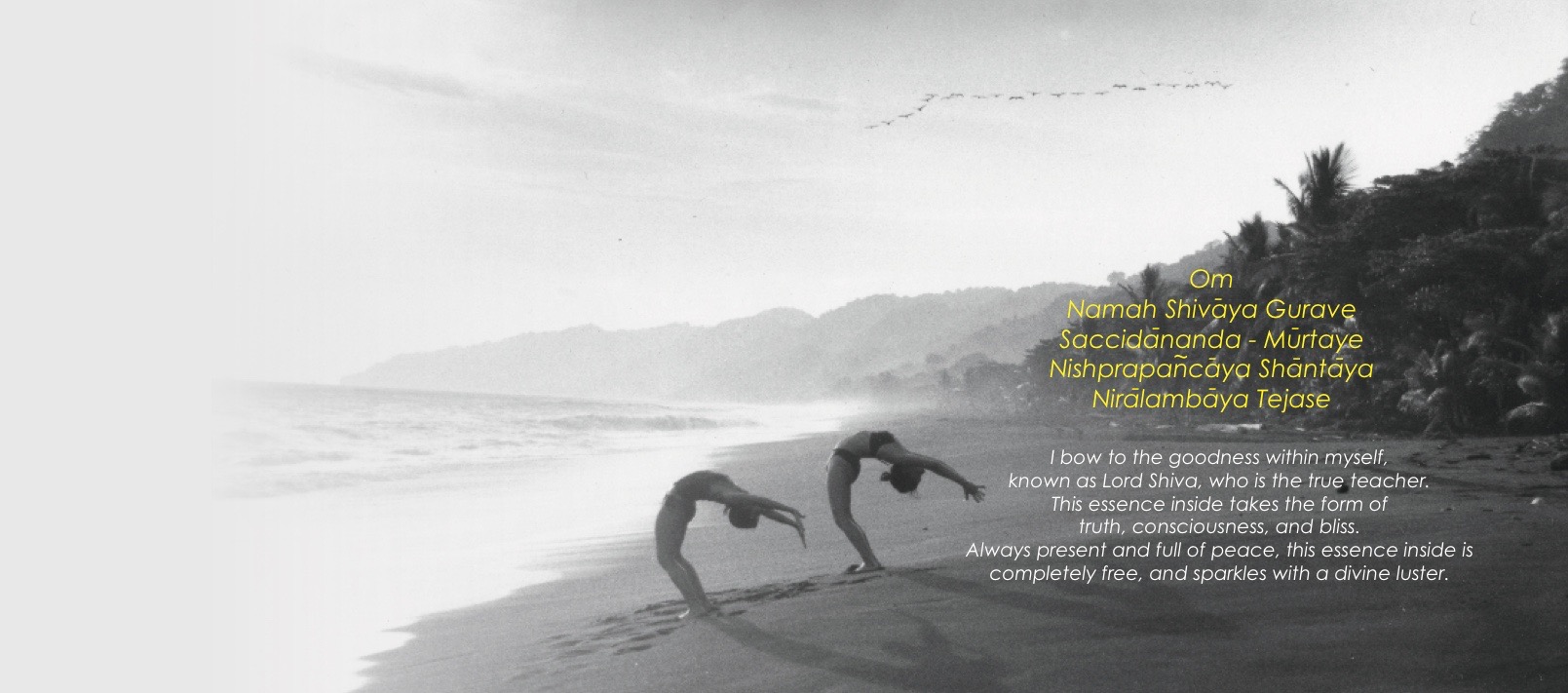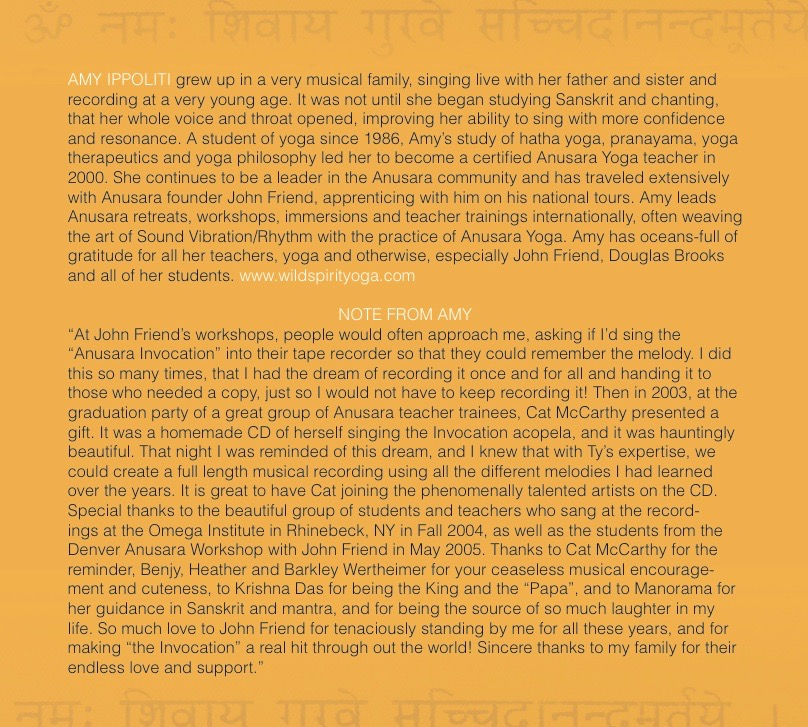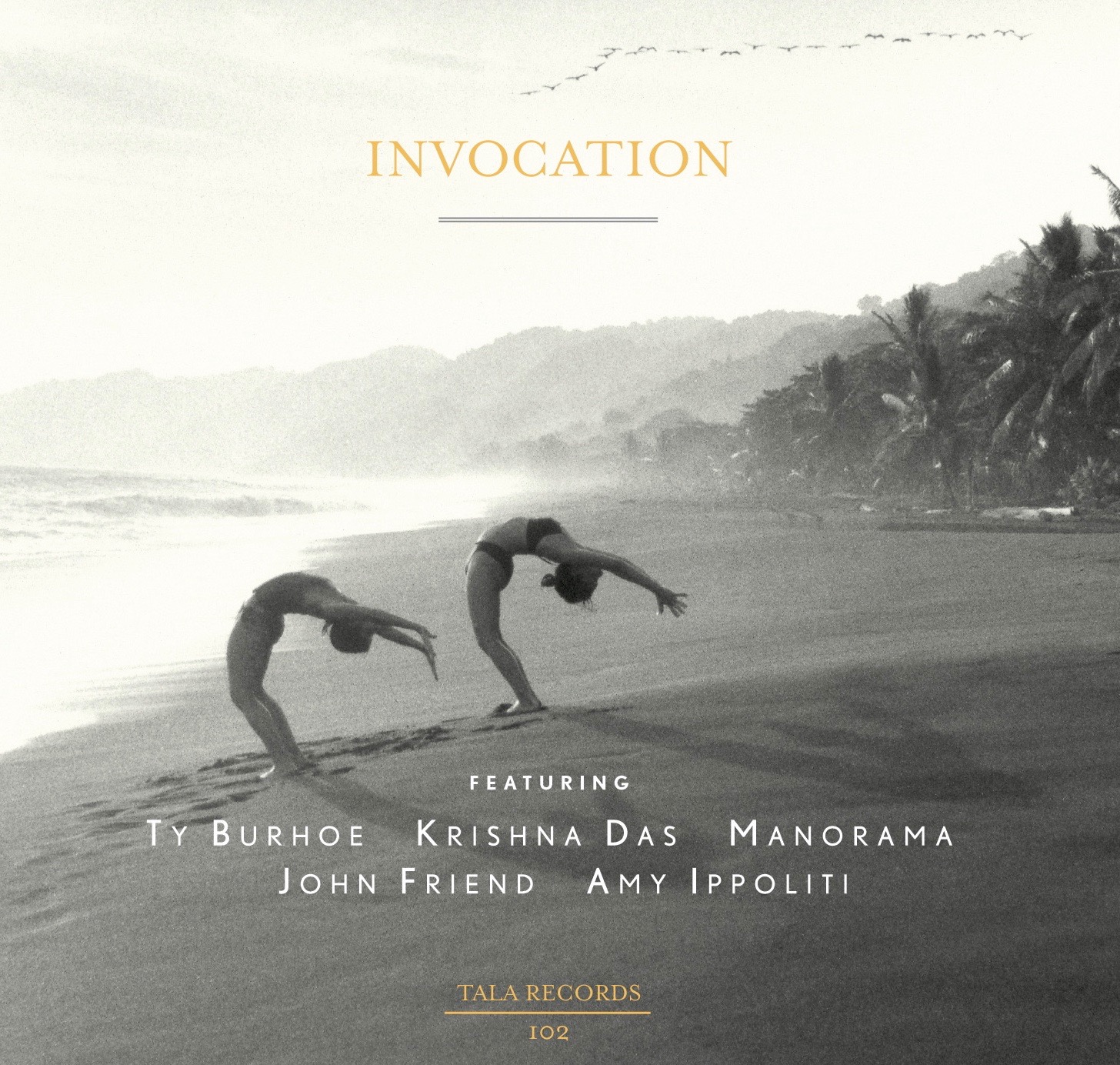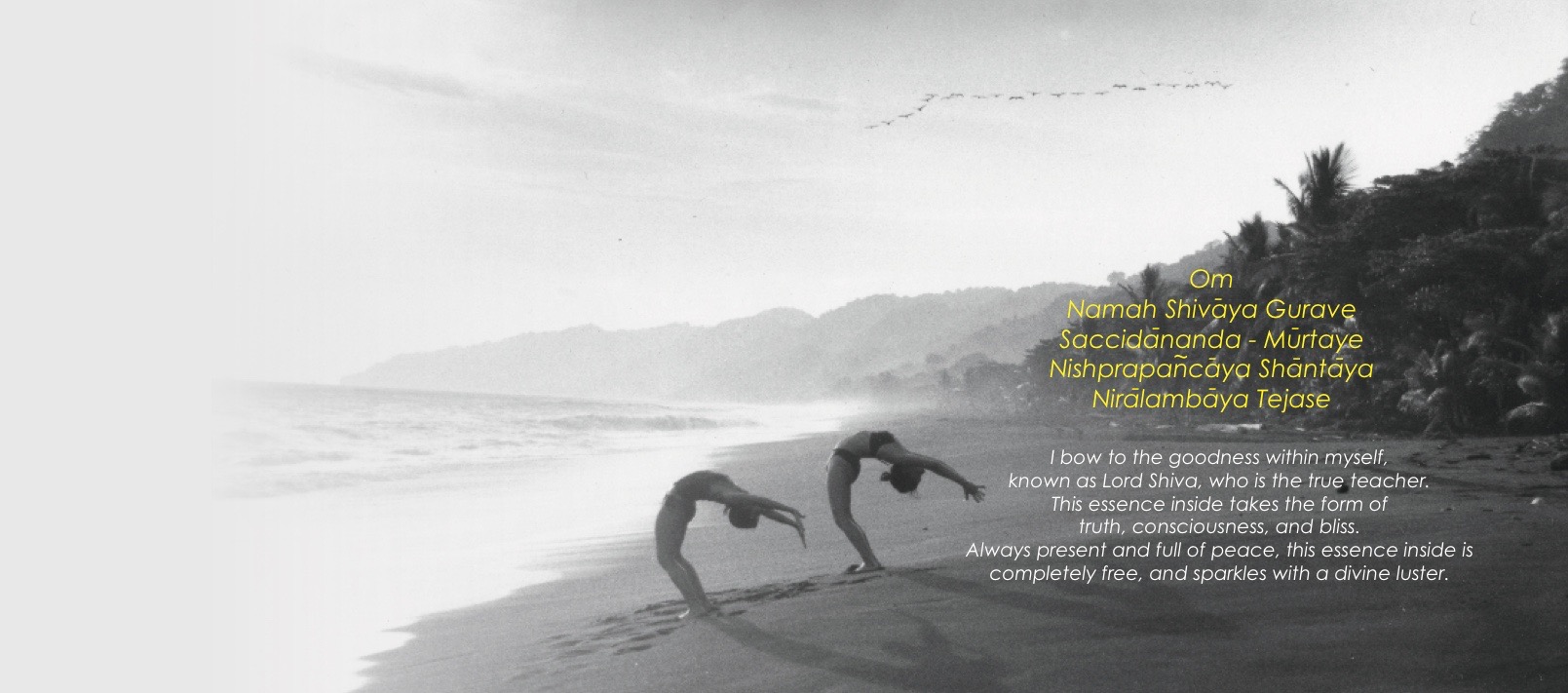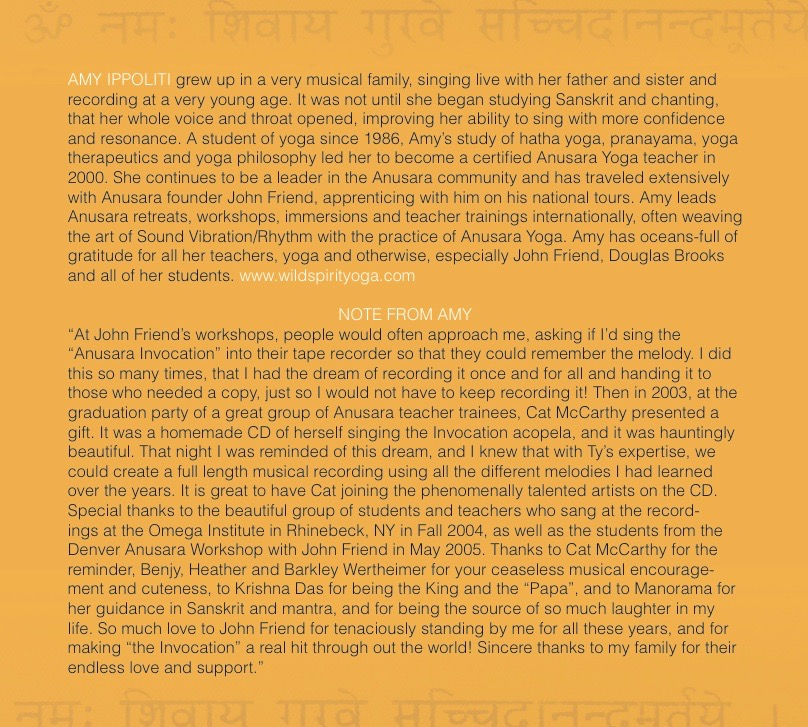 INVOCATION (Physical CD)
INVOCATION TR102 (listen to samples below)
Physical CD - In a beautiful hardbound book style!
Ty Burhoe - Synths / Vox / Drones / Tabla
Krishna Das - Chant / Manorma - Chant / Steve Oda - Sarode
Sabir Khan - Sarangi / James Hoskins - Cello
OM Namah Shivaya Gurave — "I bow to the goodness within myself, known as Lord Shiva, who is the true teacher…" This phrase begins a chant that Yogis and meditation practitioners from all over the globe sing as a prayer to invoke Grace, and blessings on their practices.
Ty Burhoe has composed stirring music to accompany this sacred chant. He is joined by some of the world's top musicians from the yoga, World Music, and Classical Indian Music traditions On Invocation, Ty offers lush incantations that create a melodic wave of devotion to wash over you during your home yoga practice, meditation, or bodywork sessions. Invocation features Ty Burhoe, Krishna Das, Manorama, John Friend, and Amy Ippoliti. The CD features beautiful vocals, sarode, Sarangi, rich drones and keyboards, cello, violin, piano, double bass, tambura, and harmonium.
Reviews
Feel free to send us your reviews through the contact page
Gorgeous music for the soul's journey
Invocation is gorgeous music - exotic, exhiliarating yet restful, meditative, deeply peaceful and full of joy. It lives in my car, and plays on my drives to and from work and yoga class...and orients me toward the Spirit so beautifully! Many thanks to all involved in the creation of this special gift.
~ Kat Jordan


Celestial Angels soothing my soul
Om Namah Shivaya! The music is from the Divine -- soul healing and loving to the core. I returned from my trip to Colombia where I had experienced some hurtful moments with my family and found that the CD Invocation that I had ordered before leaving for my trip was waiting for me, it was beautiful! I immediately played it. Listening to the music was like Celestial Angels soothing my soul and massaging my pained heart. Thank You! Om Namah Shivaya.
~ Marlene Velasquez-Rauch


Invocation
Perfect. Exactly what I wanted. Infinite blessings to all who created this amazing album.
~ Patricia


Pure Genius
Ty Burhoe is an absolute tabla maestro. Pure Genius.
I met Ty Burhoe at a Sydney Gig. I was introduced to him because my friend knows him. He was a lovely guy. At the intermission he autographed my cd with: Dear Marc, lots of love in your life. This guy is as warm and kind as he is talented. His playing was spectacular. The sarode player Steve Oda's string broke causing Ty to go into a spontaneous wild solo on the tabla. It was simply hypnotic. Truly a transcendental sound. I give this CD 5 stars because I am a Lord Shiva (Shankar) devotee. He is the supreme god of the Sanskrit mantra which the record is based. I must warn potential buyers that his playing is so incredibly exceptional and it is only featured very briefly on the final track. A gorgeous recording.
~ Marc (Shankar)


Lends a gentle, spiritual flair to yoga practice and meditation work…
INVOCATION is a collection of music that was created to lend a gentle, spiritual flair to yoga practice and meditation work. This is a collaborative affair – Ty Burhoe provides a gentle foundation of dreamy keyboard ambience in the backdrop, while Bill Douglas joins in with tender piano melodies. James Hoskins plays cello and Steve Oda performs on sarod. The distinct purr of Krishna Das's vocals add strength to several of the songs, while additional vocalists lend their own unique flavors to the mix.
~ Music Design Review

Wonderful CD!
As a former musician and yoga teacher in the Anusara tradition, I LOVE this CD of the Anusara Invocation, and I have played it a lot in my classes, to rave reviews from my students!
~ Olga Rasmussen


100% Bhakti !!!
This is 100% bhakti. If this does not light the candle of love in your spiritual heart then nothing will. I guarantee this. Buy this CD. It is worth far more than spending it in a restaurant.
~ Satchitananda Murthy


It is pure delight!!!
Beautiful cd, filled with love and devotion
Given that my favorite style of yoga is Anusara, this CD is a real treat. I play it while practicing, and my poses and I soften and open. It is pure delight, and the love within it is palpable. Thank you, thank you!
~ Jenny Grace


Mesmerizing
It is a beautiful CD and because I practice Anusara and know the people involved in the CD it is particularly special. Both the lyrics and the music are mesmerizing. I will enjoy it for many years and share it with my yoga students. I hope there will be more of their CD's to come!!
~ Karen Rider


I can't seem to play anything else...
What a wonderful tribute to the Anusara invocation. I can't seem to play anything else for the beginning of class and savasana. Thanks for an awesome CD!
~ Mary Pat


Settle down...
This tape helps me to settle down before sleep- every night!
~ Robin Paige


Peaceful...
This CD is wonderful.... The voices and musics elevate me, it give me peace....
Love and Light
~ David Gourong


Wow! This is perfect.
Om Shanti - Love the new CD. Recommend it all.
~ Courtney


Exquisite
With visible breath I am walking, a voice I am sending as I walk
Of the highest quality, in production and verve, this CD brings to the listener exquisite chanting, melodies, pronunciation, and instrumental sounds that are wonderful to just listen to, or practice with, or meditate by.
~ Linda


PEACE
It literally takes me deep within myself and encompasses all at the same time... Thank you SO MUCH for such beautiful and inspiring music! LOVE
~ Seraphim


Gorgeous music - instant inner peace!
Wow! This amazing CD is much like the classical musician's variations on a theme. The melody remains, but the environment changes from deeply meditative to more energized. Happily, it is one of those melodies that stays in your head, so even when you aren't listening to it, the peace stays with you.
~ Rajeeshree


I love it!!!
I like the mantra and how it is weaved together with the superb music throughout the musical journey.
~ Corey


Full of joy
Exquisite. luv you guys!
beautiful. thank you for sharing yourselves, your voices and your instruments to create a chant full of joy.
~ Donna


Awesome cd
Awesome cd thanks for some great music love it.
i just love the cd will tell my friends about it great for meditation or driving in the car to bad it is so hard to get here in australia thanks
~ lynette luxton


A deep soul level
As a background to yoga classes, it helps students tap into their spirituality. I've noticed that when I play this CD during class, the tenor of the class becomes quieter and more spiritual. The students settle into their practice with more awareness and thoughtfulness. Is it because the Invocation touches them at a deep soul level, helping them realize that yoga is more than asana practice? I think so.
~ Lu Spotswood


i love it
my yoga students said the class when I played this was the best class ever
~ Angie


In the End there is always a New Beginning
I'm not a Yoga guy or anything, but I like the music in this genre. If you think your some high falutin' rutin' tutin' Yoga or Music person sitting way on yonder along the pathway so's you can't even see the ground, well, this music will start you out right where you need to be....the Beginning. Because you can never 'travel' far enough or high enough on your journey, and this disc will position you perfectly for the next leg up, or out. (and the female lead singer's voice sounds quite like the original female lead singer of Ten Thousand Maniacs. Nice!
~ Arnie


Sweetness and grace
It touches my heart with sweetness and grace.
I really love this music. It is so sweet and melodious and seems to come straight from the heart, from the Source Itself. It is endless and transforms my state immediately to feel at one with all. I hear it even when the music stops, like angels singing softly.
~ Barbara


An amazing masterpiece
The Shri is contagious!! Grace and Blessings for everyone abound.
An amazing masterpiece of delight to invoke more Shri! What a gift to the planet! Eternal gratitude and Goodness from the Light in Me that is You.
~ Beej


Invocation
An amazing album. Just love it!! I've been serching for this for a loooong time. Haven't found a better price OR service than here. Therefore *****
~ Charlotte Denmark


Saigon, baby!
I'm playing this great gift of shakti in my yoga classes in Vietnam! Thank you for bringing voices of the Anusara kula to Asia.
~ Elizabeth Brown


Piece of quiet in my heart!
When my yoga teacher first play the " Angel's prayer " at the end of the lesson and taught us how to sing .I'm really really addicted with it. I feel piece of quiet in my heart .Even some time when i feel unhappy or simply just want to calm down i'll sing it in my heart.
~ Erica


Excellent album. A heart opener!
This album will open up your heart. A beautiful album. The Angel's prayer helps me to center my practice. Do something special for yourself and give this album a listen.
~ Ojoe


Lovely, heartful music!
This is a lovely CD, reflecting depth, warmth and stillness. It's helps soothe the agitated mind and invites an open heart.
~ Joel Rothaizer


Wow. truly wonderful !!!
This cd continues Ty's work of producing inspiring, sophisticated, beautiful music that is a rich synthesis of ancient rhythms and musical traditions with contemporary sounds and focus. The arrangements are clean and melodic, and the compositions glow (I meant to write flow, but glow actally says it better). "Invocation" is a wonderful addition to any collection.
~ Betsy Toll/Living Earth


Excellent! Perfect! Holy!
Krishna Das's melody is so lovely! Ty's compostion of the cd is wonderful. It is filled with love and respect. It is a wonderful balance to all the Vaishnavite chants I love so much! Om Namah Shivaya!
~ Krishnabai


Amazing
Genius of tabla, ragas with steve amazing, follow them to syd and melb. I met Ty at Krishna Das's concert in Adelaide, follow them to Sydney and Melbourne, met Ty again at the concert with Steve Oda, I was so impressed that I followed them again. If they make a CD with ragas they played, I'll be the first to by it. Just ordered Invocation on the net.This guy has a big heart, I love him. Dear Ty, thank you for helping me to find God within. God bless you. Love from Zoran
~ Zoran Sesar


Fantastic!
Fantastic mix of voices and passion, great for any activity!!
~ Sarah


I love it
I love it, my yoga students love it, many have asked where can I get it? I refer them to your website.
~ Dawnette


Hauntingly beautiful
Hauntingly beautiful. Touching all sensibilities.
Beautiful. Touching all the senses and sensibilities. My breathing seemed to stretch on listening to it.
~ Laura Haker


I Love Invocation!
It is my new favorite music for listening while I do Yoga, work in the office, clean my house...just about everything.
The unusual combination of voices, rhythm and instruments continues to keep me interested. And just for the record, Ty Burhoe is incredible!
~ Sara B.


Invocation
This music is exalting. It combines a great variety of sounds that makes my heart vibrate, and helps me be grounded. It provides a fantastic background for relaxation.
~ Carole Dupuis


Soul-stirring
This is truly a divinely inspired, soulful offering. Of course nothing happens by accident and I came across this just when I needed it. While all the tracks are superb and I love listening to Ty's tabla genius, for me, hearing KD chant this invocation especially brings boundless joy to my heart and soul. Ty, thank you ever so much.
~ Kakali Atkin


It carries the unmistakable power!
In the tradition of "A Drop of the Ocean" Wow.
I was skeptical when Krishna Das and Sultan Khan put out "A Drop Of The Ocean" a couple years ago-- I didn't want a cameo by KD to sell an otherwise weak album (I wasn't yet familiar with Sultan Khan). I got the CD, eventually, because it was on sale at a local used CD store. Of course, I was stunned by that albums beauty, depth, and grace. "Invocation" is like the follow up to that album for me. I only vaguely recognized Ty Burhoe's name from seeing it in the credits of other albums (Incl. Drop of the Ocean) but, playing the album, it carries the unmistakable power and dignity of any of KD's music, transcending categories like "New Age", "Indian Classical", or "Kirtan" and becoming something new unto itself. Thank you *so* much, Ty!
~ Seantea


Tantric sex
This is the most amazing music for tantric sex. I see more than 5 stars ***************************
~ Happy Baby


Damn its good!!
Can someone please upload on p2p network, Ty.
~ Niimena


A pulsating resonance of the Divine
A pulsating resonance of the Divine, manifesting as Sound
I have been using this CD at my yoga studio and I can't tell you how often my students comment and ask what's playing!! It goes beyond the beauty and elegance of the recording and the musicality to the fact that it condenses onto disc the chance occurrence of deeply evocative emotion and sacrality.
~ Aimee Brooks


Space , more is less...
I use this cd for my yoga practice .and the chants are from india,the problem is fusing the eastern feel sacred to the western every day so that listener feels inspired rather than cheesed off...purity comes to mind...there is space in this album there is the minimum of production gimmics..just turn on and go with the music...there is so much beauty in the ancient ,with lovely modern clear interpretation from wonderful musicians and singers....ohm shanti... Robert
~ Robert


Wonderful
wonderful cd and quick delivery...very very satisfied!!!
wonderful cd and quick delivery...very very satisfied!!! and found it cheaper here than any other site I looked at.
~ Melina


Peacefully perfect!
One of the best I have heard! Beautiful music for the mind, body and soul!
~ Andrea